Play: [wpaudio url="/wp-content/videos/song49.mp3″ text="OpenBSD 4.9 – The Answer"]
You can find out more about this song at OpenBSD release song page.
I found very interesting recording of panel discussion with four IT professionals about Agile testing.
They are: Lisa Crispin, Elisabeth Hendrickson, Antony Marcano and Dietmar Strasser.
They're talking about agile development and their experience with agile methods.
Do you wonder when Agile could become Fragile? 🙂 Listen carefully.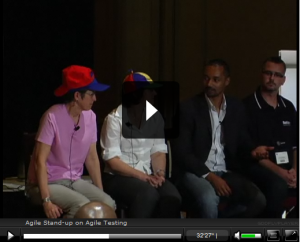 Video is located at borland.com.
Bas Vodde mentioned very interesting technique in his interview for SE-Radio.net. He call this technique travelers.
Let's consider scenario: product development reached the end of iteration. Teams delivered results. People learned quite a lot. Some of them have very specialized knowledge.
Let's give opportunity to people with very high technical knowledge to choose their team for next iteration. Give them the badge of traveler. They can choose where they want to travel in the organization.
Some of them will stay. Some of them will enjoy traveling between teams.
This technique can improve flow of knwoledge inside organization.
Software traveler is definitely not a new idea. Companies with wise management are already doing it. What I consider as very important is that Bas Vodde gave it the name.
You can download very good episode of podcast with Bas Vodde from Software Engineering Radio – episode Large Agile Software Development. I really enjoyed listening to this episode. Bas was talking about many interesting concepts in software development and agile.
Bas Vodde and Craig Larman wrote a book with title Scaling Lean & Agile Development: Thinking and Organizational Tools for Large-Scale SCRUM.
Note: You can follow SE-Radio Twitter – @seradio.