I'd like to announce small updates to LampESP code.
The first feature is that you can send commands with color via MQTT to RGB LED. It's easy, just send color name to topic /parent/host/command. Available colors are:
blue
green
orange
red
white
Or you can send just off to turn the led off.
The other small feature is a configuration for PIR sensor. I moved the configuration of PIR uptime minimal limit to configuration. You can set a number of seconds which represents how long it will take to turn off the light. The configuration could be set by URL:
http://IP-address/config?pir_up_interval=30
Here you can see a configuration of ESP8266 with Photocell sensor, PIR and 3W LED powered by power bank.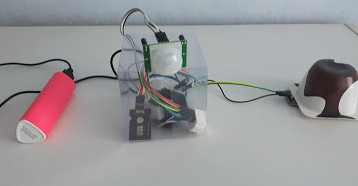 One interesting thing is small breadboard ZY. Dimensions are just 5×5 and it's very useful for small configurations like this one.
Enjoy 😉